The effects of acute hypoxia on metabolic enzymes in skeletal muscle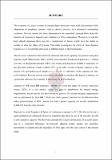 Date Issued
2006-03
This item appears in the following collection/s
Abstract
The responses of central systems to oxygen deprivation have been well characterised while adaptations in peripheral systems, such as skeletal muscles, have presented confounding variations. Several reasons for these discrepancies are purported, amongst them being the duration of exposure to hypoxia and variations in fibre composition. Moreover, in real-life high altitude situations there may be a combination of factors which have the ability to modify or alter the effect of hypoxia. This study investigates the effect of short duration hypoxia per se on substrate utilisation in different types of skeletal muscles.
Find Full text
The following license files are associated with this item:
Related items
Showing items related by title, author, creator and subject.